Stay Organized in the Comment Feature
Manage your feedback with the search, filter, and display functions
🌸 Spring🌸 is in the air here in Tokyo and we've been doing a lot of spring "cleaning". That's right, we've been cleaning up some features by revamping the UI and adding new functionalities to make your prototyping experience as smooth as possible.
In this update, we focused on tackling large volumes of feedback and making it easier to manage that in the Comment feature. Feedback is great! It allows you to brush up your prototypes and speeds up the process towards making better products. But without an organized system, comments can get lost in the shuffle. No one wants to waste the potential of making the best out of all that valuable feedback, right?
Today we'd like to share with you a little something we've put together. By adding a search panel and comment summary, it's now easier to search comments and stay organized. Here's a quick overview of the changes to get you started on becoming the best prototyping master out there! 💪🏻
Never Lose Track of Your Feedback 🕵🏽
When you're in the Comment mode, the search panel will be located on the left hand side. Please note that the search panel will appear only after a comment has been made.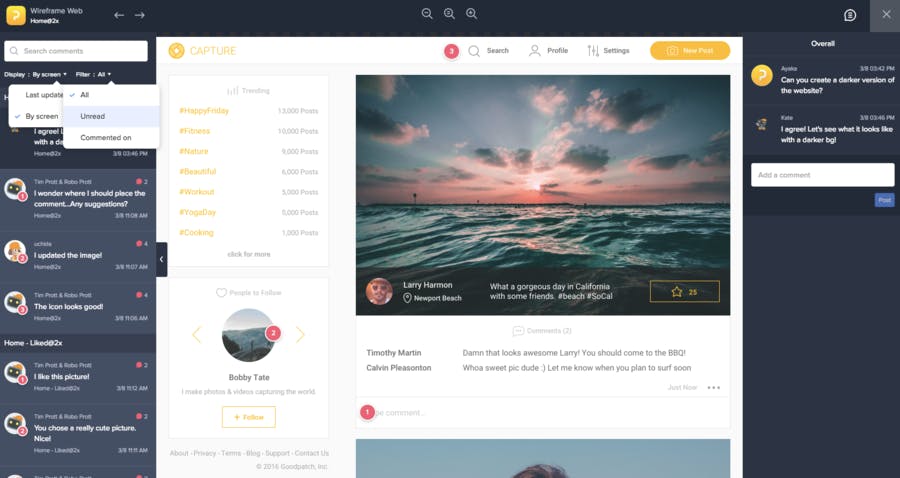 Here's how to search, display, and filter through the feedback quickly and easily:
1. Use the search field 🔍 to look up specific keywords
2. Filter through comments by choosing one of the following filters:
3. Display comments based on:
Last updated comment
By screen
Not only will you be able to search, filter, and display specific comments, you'll also be able to look at all your comments summarized in one place. 😉
From Left to Right 💁🏻
We understand that not all feedback may be about specific areas but rather about the interactions or the overall look of the screen. In this case, simply enter your comments in the comment field on the right hand side.
Locate Those Pinned Comments 📍
You'll also notice that the pinned icons (the circled numbers) will now be displayed on the left hand panel along with your comments. To pinpoint the exact location where the comment was made, simply click on the comment to be taken to the pin on the respective screen.
With these new improvements, you'll be able to swiftly search for any piece of feedback that has been nestled in your projects. This means less time wasted searching and more time spent on improving your prototypes! 👌🏼
This is just the beginning of many more Comment feature updates to come. Stay tuned for added features like notifications, commenting without having to login, and much more! If you've got any questions for us, send us a line on chat or via email.
To learn more about the Comment feature, head on over to the help page here. 👈🏻
If you're reading this blog for the first time, feel free to check out Prott (for free) and let us know what you think. As for our awesome users who've been with us for a while, please check out the new updates and stay organized. 🗂 💪🏼